Jan 2006



Fundraising event



There is a fundraising event that is being organized for Chris McMahon on Thursday, January 26th at the Irish American Hall in Mineola from 7:00 p.m. - 9:30 p.m. . (See flyer for your information) 


Chris was seriously injured in November when a tree limb crashed through the windshield of the Town of North Hempstead vehicle he was driving. He has been through a number of serious surgeries and faces a long road to full recovery.

We hope you can attend the event to help Chris with the many expenses he faces. Please pass along this invitation to others and feel free to bring as many people as you would like to the event. Tickets are $25 per person but we are giving people the option of paying $50 as a benefactor and $100 as a sponsor. We are also in need of items for the raffles for the evening. Please consider a donation of sports tickets, dinner gift certificates or other gifts and prizes.

Thanks very much for your consideration.

All checks should be made payable to the "Chris McMahon Trust" and mailed to Alex Sklavos, c/o Monahan & Sklavos, 1 Old Country Road, Suite 250, Carle Place , NY 11514

Jan 2005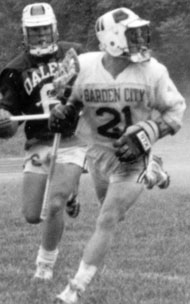 Andy Kraus inducted into the Long Island Lacrosse Hall of Fame.



1986 graduate Andrew Kraus has been inducted into the long island lacrosse hall of fame on Feb. 4, 2005.

Andrew, a two sport star athlete at G.C .had an outstanding high school and college career. A three year starter who played on the first state championship team while receiving all American Honors. He is Garden City's 2nd all time single season scoring middy (69). Facing off was his specialty and Coach Dougherty said, "On the high school level he has never seen one better." He did not skip a beat with a superb college career at Virginia dominating in the face off game.